Mircro Finance Service
Micro Finance Loans
The flagship products of DBIS, micro/Self Help Group loans, provide affordable credit to borrowers in the Base of Pyramid (BOP) sector. This loan product aimed at the borrowers in the first phase of a borrower lifecycle utilizes joint liability based group lending model to finance any income generating activity. Loan amounts range from Rs. 10,000 to Rs. 50,000 with flexible repayment tenure. Group trainings are organized to educate the members, usually first time micro entrepreneurs, on efficient use of capital and for building group cohesion.
As on 31st March 2016, DBIS supports 9436 borrowers through this loan product.Considering the above our focus is towards financing to Self Help Groups for the activities related to agriculture, allied agriculture and others within the ambit of priority sector satisfying with the Reserve Bank of India norms for categorization of the loans as priority sector.
Insurance
An essential support during micro entrepreneurship is adequate risk coverage in case of unforeseen circumstances; natural or man-made. DBIS offers this support to its borrowers during their loan lifecycle through premium based insurance coverage. The insurance cover, both for the borrower and co-borrower, activated through a onetime premium payment by the member at the time of disbursement, protects the members and then families from the burden of loan in case of any unforeseen emergencies like death or natural disasters during the tenure of the loan.
Financialproducts
Newentrepreneurshipdevelopmentloan
AbilityLoan
StabilityLoan
SUPPORT SERVICES
DBIS strongly believes that microfinance does not end with delivery of a particular dimension of credit. It encompasses a whole range of services, both technical and financial services, to meet the needs of the clients. Support services such as training in group, management, accounting & book keeping, training in skill up gradation, advocacy, are the services DBIS renders to its members.
FINANCIAL PRODUCTS
New entrepreneurship development loan
Ability Loan
Stability Loan
NON FINANCIAL SERVICES
Our non financial services consists of Enterprise skill development, Business development services, financial literacy promotion, basic health/nutrition education, basic medical services, special medical services for women and children, leadership training for women, women's rights/gender issues education, Legal Aids & livelihood program etc.
FINANCIAL INCLUSION DRIVE
As a part of financial inclusion DBIS is doing village wise development of total infrastructure including introduction of banking system.
DBIS is the Business Correspondent of SBI, on April 2014 who can render all the Banking Services at Micro level CSPs and at the doorstep to the customers. At present we have 43 nos of Customer Service Points operating in the different districts of West Bengal with about 29395 nos of accounts already opened.
Technology
During the year, the company initiated migration to a proven, robust and scalable Loan Management Software which will help the society better to manage the customer loan lifecycle. The society has also implemented a technology enabled inbound and outbound services and also to redress their grievances. In addition, the Society has commenced digitization of all documents and records for easy storage and retrieval.
CREDIT RISK MANAGEMENT
Credit risk management has been designed to oversee the credit business performance aiming to reduce the risk of non-performing loan portfolio on a regular basis. We proactively manage, review and monitor the credit business.
Compliance Risk has been monitored by DBIS to ensure full compliance with both internal and external rules and regulations. Non-compliance with internal policies and procedures can result in lower quality, high cost, slow productivity, lost revenue, and delayed process.
FINANCIAL RISK MANAGEMENT
DBIS is responsible for monitoring both financial risk and financial performance vs projections. During FY 2015-16 we have approved a revised Treasury Policy. Meeting are being held on monthly basis to discuss all financial risks which include but are not limited to
Liquidity and cash flow.
Funding strategy.
Interest rate.
Regulatory requirements.
Lender covenants.
Collection behaviour and concentration.
RISK MANAGEMENT & MITIGATION
The repayment rate is around 99.46% representing robust quality of credit assessment process. Our credit risk is controlled through various credit assessment initiatives. Salient one is being credit policies focusing on occupation, income levels and history of credit behavior, mandatory credit bureau checks on all our loans, Pre disbursement and post disbursement follow ups, regular recovery drives, monitoring and restructuring of loans in loss occurred due to unforeseen incidents.
Fair Practices in lending and multiple lending
NGO-MFIs are not allowed to collect any security deposit or margin. Further, more than two MFIs are not allowed to lend to the same borrower or to borrowers who are members of a Joint Liability Group (JLG) or a Self Help Group (SHG). NBFC-MFIs are also required to comply with the guidelines on Fair Practices Code prescribed by the RBI through its circular dated March 26, 2012.
CREDIT INFORMATION BUREAU FOR MFIs
In order to address the issue of multiple lending or over-indebtedness, a number of MFIs have been submitting information to Credit Information Bureaus (CIBs) approved by the RBI viz., High Mark Credit Information Services Private Limited and Equifax Credit Information Services Private Limited. Our society is a member of Equifax Credit Information Services Private Limited and has been regularly submitting information to them and utilizing their reports in lending decisions. As the number of MFIs submitting information with CIBs increases, the trend is helping build awareness about the perils of over-indebtedness amongst borrowers who are increasingly accepting the usage of Credit Bureaus in the lending process.
Education & Training
DBIS has been working on poverty alleviation & women education. Courses were developed based on feedback from low income people in the context of our Society. Some modules are specifically designed for children development. We develop such programs and tools that incorporate adult learning to women & poor and destitute children.
To help low-income groups of women for better managing their personal and household financial condition and be informed with our financial services.
DBIS conducts periodic health check-up camps in the project areas and organized discussion on health awareness , polio ,malaria water logging ,mother & Child health and also educates the peoples and their dependants on the importance of acquiring education.
Our Impact
The poor women are satisfied in getting our financial nourishments in different stages of their needs. They starts earning considerably to run their families, build assets and helps in savings for their children's education , health and marriages. DBIS has created a special impact on the people under our area of operation relating to the social development.
Sanitation & Health
The poor people living in the city as well as in the urban and rural areas in clusters is worst affected in lacking of any sanitation and health hygiene which leads early morbidity, high mortality and frequent illness.
These factors include population density, rudimentary housing, burgeoning ways of living, poor sanitation and health care systems, and lagging literacy and education relating to sanitation. Women and children of our targeted groups are also traditionally been isolated from the rest and are at the bottom of the region's socio-economic ladder.
Water, sanitation, and hygiene are all critical in reducing the burden of water-borne diseases, which kill millions of children each year. We are helping the people to construct sewerage, installation of tube wells and spraying insecticides to minimize the cause of health hazards.
To bring equality, rights and to raise the standard of living, we conduct social and community health awareness camps for rural & urban women.
Organised Camps on safe drinking water and sanitation , man use of plastic and achieve people participation to keep their environment clean.
Programmed Case Study
Success Stories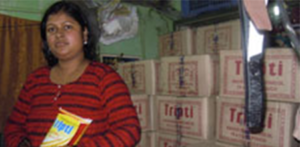 Client Name: Smt Chandana Das
Address : 93/1, Tollygunge Road, Kolkata-26
Age : 28
Education : Madhyamik
Income : 6000.00 p.a in the year 2008, at present Rs.96,000.00 p.a
Project : Packaging and selling of edible oil
Loan Disbursement : 1st phase: Rs.10000.00
2nd phase:Rs.20000.00
3rd phase:Rs.30000.00
4th phase:Rs.40000.00
Smt Chandana Das, a house wife, married to a daily waged labourer at her early age of 18. She, after her marriage engaged in her household works. After some years, the income of her husband become lowered due to his incapability and enhancement of her family and the family was practically started starving.
She some how got touch with our Credit Officer who was in charge of the area where she resides and solicited for some innovative idea for earning. Being considerate to her urge for work and the eroding family condition DBIS sanctioned Rs.10,000.00 for packaging and supplying the mustard oil purchasing from the oil mill in a marginal price in the year 2007.
She was a good pay master and continued her payment of monthly installments regularly. Being satisfied to her dedication and sincerity to work and good borrowal habit, DBIS increased the quantum of loan in four successive occasion from Rs.10,000.00 to Rs.40,000.00 within five years. At present she with the help of her family is earning Rs.8000.00 per month by the same trade. And she can now manage her family in a modest way.
She is very much obliged to DBIS and says to all that "DBIS is the turning point of the survival of my family".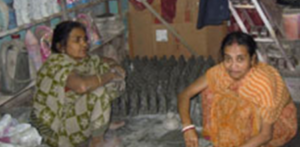 Client Name : Smt RUMA PAUL
Address : 54, Tollygunge Road, Kolkata-26
Age : 36
Education: Madhyamik
Income : 18000.00 p.a in the year 2007, at present Rs.96,000.00 p.a
Project : Clay Model Making
Loan Disbursement : 1st phase: Rs.10000.00
2nd phase : Rs.20000.00
3rd phase : Rs.30000.00
4th phase : Rs.40000.00
5th phase : Rs.50000.00

Ruma Paul– a figure of hope.
Ruma Paul & her husband were making their livelihood by working as daily labour in a unit against a small wages. Satisfying the minimum necessities of two children with their scanty earnings was a tough task & so they had to borrow money at high interest rates from the local lenders. They were caught in a vicious circle of debts. Their children were deprived of good food & education.
Ruma Paul, though she was battling with so many trials & tribulations she was never disheartened. One day, she attended the Group Orientation meeting of DBIS & made up her mind to join DBIS. She thanked God for her timely help & with courage and confidence she started a new journey of life. With the loan amount Ruma Paul started clay model making business. These were sold in the markets & village fairs. This manufacturing business needs capital in a continual basis, the loan amount became a rotating capital for the future purpose. She intensified her efforts & started manufacturing house hold items in a large scale. Ruma Paul's handicraft got a quick recognition. Previously, her efforts were utter futilities, but today she experiences great pleasure of her hard labor DBIS has made available to them a life free from grief, suffering & poverty. Deep in her heart she advertise that – If you have determination to work, join with DBIS today, and see DBIS will pull you up to a bright future .
I was a housewife when I took a loan from DBIS around a year back to start a Tea & Snacks business. Now, my business is doing very well and I earn around Rs. 8,000 per month, which I use for my children's education and other family requirements. Moreover, I am now able to save on a regular basis. I am very happy about doing this business and I thank DBIS for encouraging me and helping me to become financially independent.
Mrs.Kalyani Chakrabort ,Area: Tollaygunge
As a skilled tailor without equipment, I had to depend on other shops to carry out my business. But with the loan from DBIS, I bought a new machine Now, I am the proud owner of a tailoring business and able to contribute to the family with my income. In future, my aim is to expand my business with more tailoring machines and set up a shop to give work to other women like me.
Performance Report
| SL.NO | PARTICULARS | AS ON Mar.2013-14 | AS ON Oct.2015 | Cumulative |
| --- | --- | --- | --- | --- |
| 1 | No. of State | 1 | 1 | 1 |
| 2 | No. of Districts | 3 | 3 | 3 |
| 3 | No. of Branches | 4 | 3 | 3 |
| 4 | No. of Village / Ward | 81 | 81 | 81 |
| 5 | No. of Staff | 26 | 26 | 26 |
| | Of which Credit Officer | 12 | 12 | 12 |
OUT REACH
| SL.NO | PARTICULARS | AS ON Mar.2013-14 | AS ON Oct.2015 | Cumulative |
| --- | --- | --- | --- | --- |
| 6 | No. of Groups | 2776 | 0 | 2776 |
| 7 | No. of Members | 27760 | 0 | 27760 |
| 8 | No. of Borrowers | 28879 | 1670 | 30549 |
| 9 | No. of Closing Loan AC | 19555 | 2010 | 21565 |
| 10 | No. Active Borrowers | 9324 | 8984 | 8984 |
LOAN PORTFOLIO
| SL.NO | PARTICULARS | AS ON Mar.2013-14 | AS ON Oct.2015 | Cumulative |
| --- | --- | --- | --- | --- |
| 11 | No. of Loan Disbursed During The Yr. | 28879 | 1670 | 30549 |
| 12 | Loan Disbursement During The Yr. | 2908.67 | 230.68 | 3139.35 |
| 13 | Loan Demand | 2394.49 | 256.11 | 2650.60 |
| 14 | Loan Recovery During The Yr. | 514.18 | 488.75 | 488.75 |
| 15 | Loan Outstanding During The Yr. | 2396.83 | 258.35 | 2655.18 |
| 16 | Over due | 2.34 | 2.24 | 4.58 |
| 17 | | 0.10 | 0.87 | 0.17 |
| 18 | % of Over due | 99.90 | 99.13 | 99.83 |
PORTFOLIO QUALITY
| SL.NO | PARTICULARS | AS ON Mar.2013-14 | AS ON Oct.2015 | Cumulative |
| --- | --- | --- | --- | --- |
| 19 | Average O/s Loan Size | 5000.00 | 5400.00 | 5400.00 |
| 20 | No.of Active Borrowers Per Credit Officer | 777 | 749 | 749 |
| 21 | Average Portfolio per Credit Officer | 42.85 | 40.73 | 40.73 |